Want to get the latest, and greatest keto cookbooks in 2019? We have just the collection that I am sure you are going to LOVE. We have scoured all of the bookstores and libraries and have found the absolute top ketogenic cookbooks you can start using to jump into ketosis right away.
It's the new diet fad and craze of the times, not everyone agrees with the idea behind it but a lot of people are jumping on board the keto diet train. The Ketogenic diet is one that is extremely low in carbohydrates and high in fat. It's a great way to shed pounds fast but can really be a challenging diet to follow through with.
The number one important way to ensure you are sticking with your keto diet is by having a plan and knowing what recipes to use that are both keto friendly and delicious! Start by finding a good ketogenic cookbook that only focus's on keto friendly recipes the top four keto cookbooks include The Keto Diet: The Complete Guide to a High-Fat Diet, Keto Comfort Foods, The Keto Crock pot cookbook and Simply Keto. 
The Best Keto Cookbooks in 2019 You'll Love
Here is the top keto cookbooks we think you are going to fall in love with in 2019. Some of these are classics while others are new to the scene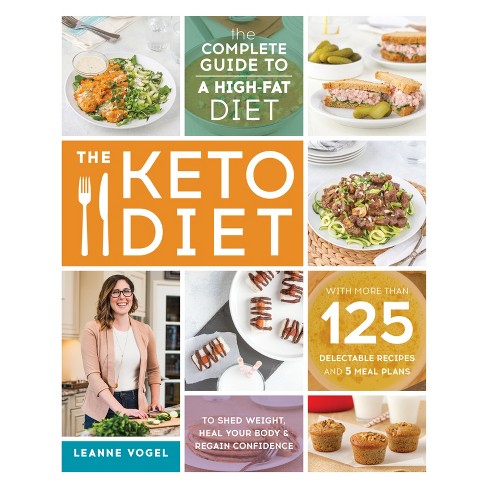 The Keto Diet: The Complete Guide to a High-Fat Diet
The Keto diet cookbook, written by Leanne Vogel is a great recipe book and a great read. Not only does this book include more than a hundred great keto friendly recipes but it also has diet plans and dieting advice written throughout the entire book.
Leanne is an expert at the keto diet and will be able to provide you with some good advice and good tips and methods that will ensure you stick with your diet in order to reach your weight loss goals. The book will get to off to a great start by providing you a 28 day start up meal plan that includes all of the recipes and even a grocery list to help you get started with your shopping. So if your a beginner at the keto diet this book is definitely a great choice.
Keto Comfort Foods
Keto Comfort Foods written by
Maria Emmerich
is a great tool for those who have been on the keto diet for some time and are looking for some new and delicious recipes to add to their ketogenic diet.
Maria writes out a meal plan that includes mock comfort foods using fatty foods in place of the carbohydrates. Some examples of recipes you may find in this cookbook include cauliflower based pizza, bacon wrapped meatloaf and chicken cordon bleu. She finds ways of recreating the comfort foods you love and crave and keeping them low carb.

The Keto Crock-pot Cookbook
The Keto Crock-pot cookbook written by Diana Barrera is a great choice for keto dieters that love slow cooked meals and are comfortable using a crock-pot. Since meat is a large portion of a keto dieters meal, it's important to make sure it's cooked right.
A slow cooker is a great way to cook the meat of your choice all day while you go to work or wherever you need to go for the day and then come home to a delicious cooked meal. You can also use the slow cooker to cook vegetables, casseroles and even stuffed peppers if your in the mood! If your on the keto diet and are looking for something different this cook book might be ideal for you.
Simply Keto
Another great keto cookbook you should check out if your starting the keto diet is Simply Keto written by Suzanne Ryan. Simply Keto is a great tool for those of you who are just starting out and are really trying to lose weight on this diet. Suzanne is an author who has actually struggled with her weight and uses this book to detail her journey with weight loss and how she stuck with the keto diet. Losing more than 100 pounds on the diet herself, i'd say shes a pretty good role model to have.
So if your starting your weight loss journey with the keto diet, any one of these tremendous cookbooks will help you get where you need to go. With detailed recipes, first hand experiences and well thought out meal plans your bound for success!
Conclusion
A low-carb diet isn't always a ketogenic diet. Low fat diets aren't powerful. The diet needs a trained dietitian, it's work-intensive, involves tons of hours and there's no pot of gold at the conclusion of that, outside of the advantage to the family. Now, it's reemerging as a diet that's beneficial for weight reduction and management, in addition to for helping treat other medical concerns.